Rameshwaram Tourist guide
Rameshwaram is a township which belongs to Ramanthapuram dist. of state Tamil Nadu. Amongst four pilgrimage sites, Char Dham in India, is the Jyotirlinga established at the Ramnathswamy Temple, which humbly invites Shiva followers from all over the world at least once in their lifetime. The city is not part of the mainland of India. It is located on the island of Pamban connected with India via the Pamban Bridge. History says that Rameshwaram is centered on the island which is the transportation point to reach Sri Lanka and the presence of the Ramnathswamy Temple. Rameshwaram means "Lord of Rama" in Sanskrit, the main deity of the temple of Ramnathswamy. Conferring to an impression of the Ramayana, Rama, the seventh incarnation of the 'God Vishnu', committed any sin during the war against 'Devil-King' Ravana in Sri Lanka, which he prayed to Lord Shiva here to remove. For the reason of worshiping 'Lord Shiva', Ram wanted to have a lingam so he ordered his faithful vakt Hanuman to take it from the Himalayas. As it was taking too long to bring the lingam, Sita created a lingam, made only by the sand of the coast, also considered to be one of the sanctuaries of the temple.
How to reach Rameshwaram –
If you are planning to travel Rameshwaram with your own car then here is the information you must know. The fastest Route is to drive 2,272 km through NH16 road which will take 41 hours, but this route has tolls. While there is another route with no tolls is to drive 2,912 km via NH44 road which will take 51 hours. There is no direct flight, train or bus between Kolkata to Rameshwaram. The easiest way to get Rameshwaram from Kolkata is to take Spice jet from Kolkata to Chennaithen take a state transport bus from Chennai to Rameshwaram. There is a cheapest way to reach Rameshwaram from Kolkata is to take Coro Mandal Express from Kolkata to Chennai then take train with train number 06019 from Chennai to Rameshwaram.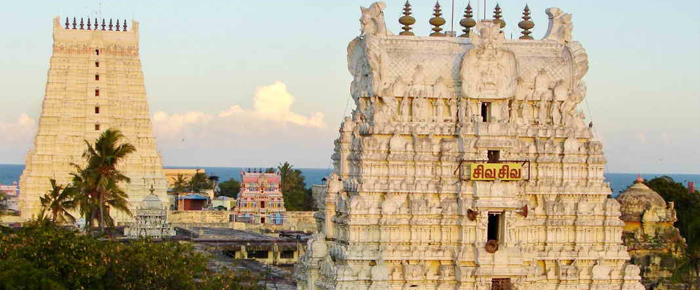 Rameshwaram Tourism shows off these places to visitors –
Rameshwaram is a great Place for tour and travel. It is a mythical place which attracts tourists to travel more than one time. The best places to travel are mentioned below.
Agni Theertham – When talking about the best places to visit in Rameshwaram, one of India's sacred baths, Agni Theertham is always at the top of the list. This is tobe assumed that drowning in this holy water will erase sins and cleanses them. It is supposed that Lord Rama bathed in the holy water of Agni Theertham, atonement for his sin to kill Ravana, who was actually a half Brahmin. The Lord Agni had to wash away the sin of touching the goddess Sita during the ordeal by bathing in the sea and praying sincerely to Lord Shiva.
Sri Ramnathswamy Temple – Sri Ramnathswamy Temple is well known for its eclectic collection of genders composed of sand, salt, stone and other elements. This is the noticeable tourist attraction of Rameshwaram is best known for making history by becoming the second largest astounding corridor in the world. This is to believe that the actual temple was built by Lord Rama himself and thus gained a revered position according to Indian mythology.
Temple of 5-faced Hanuman –  positioned a little away from Rameshwaram Temple, this temple is famous for its five manifestations of Lord Hanuman and is listed among the most prestigious places to visit in Rameshwaram. The original statue is carved from a huge Senthooram stone, which was considered very valuable in ancient times. There is a floating stone outside the temple can be seen by people, which was once used to initiate the construction of the bridge on the sea as prescribed by our Indian mythology.
Dhanushkodi Temple – It can be called Dhanushkodi or 'edge of the bow' is a small town on the south-eastern tip of Pamban Island in Tamil Nadu. It sounds bad that today's Dhanushkodi temple is nothing but the destruction of the temple described in various versions of the Ramayana.If you are curious enough to discover the plot of Ram Sethu, be sure to explore Dhanushkodi.
Gandhamadhana Parvatham – If you can remember the mountain mentioned in the Ramayana from where Hanuman was going to fetch medicinal plants to save Lord Lakshmana then you must visit this place, because this the Gandhamadhana Parvatham. It was carried by Hanuman to Lord Ram. This perfectly religious and sacred religious place is 3 kilometers away from the city center. There is a two-storied temple where Lord Rama has his footprints on a chakra is stored.
Here isn't the end, it has also some other attracting places to visit like Jada Tirtham, Adam's Bridge, Nambu Nayagiamman Temple, Water Bird Sanctuary, Ariyaman Beach, Kothandaramaswamy Temple, Annai Indira Gandhi Road Bridge, Lakshmana Tirtham, Villoondi Tirtham and many more.
Ideal time to visit –
As far as the weather is concerned, Rameshwaram feels the tropical climate which means that although the seasons vary a lot, the temperature may not vary. It creates Rameshwaram a destination that is seen all year round.You may plan your tour during Mahasivrati which usually held in February or March every year for the grand celebration at Ramnathswamy Temple. Although, the best time to visit is from October to April. Apart from that monsoon from July to September is tropical with average rainfall; however, coastal landscapes are enjoyable during these months. Nevertheless the season of winter from November to February cools down and temperatures drop to 17 degrees Celsius which is the most pleasant season for sightseeing and sightseeing.