Manali trip guide
Manali is a resort town in Himachal Pradesh of northern India, it is situated in high-altitude Himalayan  region. It is mostly popularas a honeymoon destination. There are lots off activites to do in here like, it's a gateway for skiing in the Solang Valley and trekking in Parvati Valley, It's also a jumping-off point for paragliding, rafting and mountaineering in the Pir Panjal mountains, home to 4,000m-high Rohtang Pass.
Solang Valley is counted as one of the most visited places in Manali, with a picturesque drive road to Solang. With more than 25 lakh visitors every year, Rohtang Pass easily claim its name as one of the most popular scenic spots in Manali. Connecting the Lahaul and Kullu valleys, the Rohtang Pass is also popular among photographers, nature lovers and adventure seekers.
Manali is also holds some important history with it itself, in the form of the Naggar castle. Situated in the breathtaking forests of Naggar town, the Naggar Castle is a stunning historical palace. It was once used as the mansion of Raja Sidh Singh of Kullu, the castle is a amazing mixture of traditional Himalayan and European architecture. With majestic fireplaces, beautifully built staircases, and meticulous wood and stone works, the Naggar Castle is a must-visit when you're in Manali.

Best Places to visit
Solang Valley
A charming valley in between the Beas Kund and the Solang village tends to be popular for all its visitors as well as the locals. The Solang valley is also known as the Snow point, and is famous not only for the glaciers and snow-clad landscapes but also for the countless activities that one can enjoy here.
During winters, Solang valley is covered with snow at this time skiing is a popular sport here, with training institutes and trainers located in the valley to supervise skiers and train beginners. As soon as the snow melts, skiing is taken over by zorbing, another popular attraction of Solang valley, taking advantage of the slopes of the valley, you are likely to spot a huge transparent ball with mostly two people inside it rolling down the slope during summers. Yes, Zorbing is as much fun as it looks like. If you are in Manali then you should not miss this vibrant and enjoyable destination.
Rohtang Pass
Rohtang pass is the stretch which connects Manali to Himachal's more dreamy and dessert like landscapes, Spiti and Lahaul, and is one itself. This vast snow desert is a landscape like only a few other and a view one should not miss, while here.
To just curl up on your seat in the car as it begins to chill with every increasing metre on the altitude scale and gaze outside at the mesmerizing beauty of nature is absolute bliss. Rohtang pass is an experience of nature in one of its rawest forms possible, amongst mountain peaks covered with snow, breathtaking view and magnificent and sprawling landscapes and views. The magnificence of the white landscape and sonorous silence is a mesmerising thing worth experiencing.
The Beas Kund trek
The Beas Kund trek is a perfect weekend getaway trek with outstanding views of Pir Pinjal mountain ranges over the Beas river. let your soul get wooed by the spectacular meadows of Dhundi and Bakarthach and finally, the glacial lake at Beas Kund which is worth all the hiking.
So if you ever want to take a break from your otherwise monotonous life, the Beas Kund trek is what you need right. Mark your calendar, pack your bag and set off on the trek to Beas Kund and let your soul rejuvenate.
Hadimba temple
Hadimba temple, is a peaceful place surrounded by towering deodar trees away from the hustle and bustle of city life. The temple is dedicated to the wife of Bhima, named Hidimba one of the five Pandava princes wife from the great Indian epic Mahabharata. Three day Hidimba Devi Festival is the main attraction of the temple, which attracts devotees from all over the world and features colourful folk dance performances.
The magnificent Hidimba Devi Temple holds monumental importance to Hindu pilgrims as it is a part of the Hindu epic Mahabharata. Even apart from that, the Hadimba Temple is no less of wonder to nature lovers. Packed away into the laps of nature, this temple offers a quiet getaway to nature and peace lovers. Being quite a quaint story in itself, the Hidimba Temple is slowly but steadily attracting tourists from all over the country to its doors where history and heritage meet natural beauty.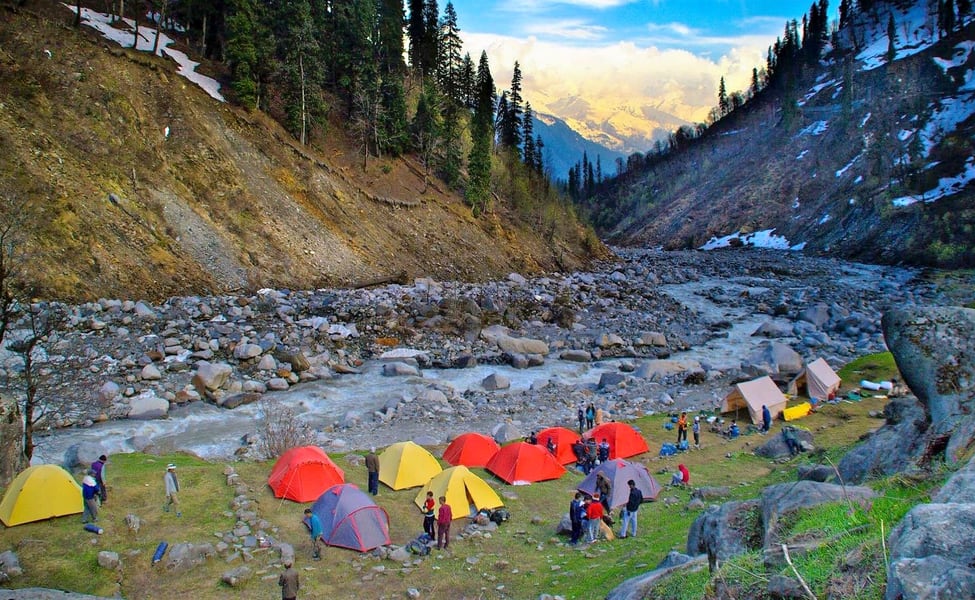 Things to do
Riverside Camping, Rafting and Paragliding in Manali
Paragliding In Kullu Manali
Patalsu Peak Trek
Lama Dugh Trekking
Skiing in Manali Solang Nallah
How to reach
By Air
Bhuntar Airport –  50km from Manali
Chandigarh Airport – 178 kms from Manali
By Train
Ambala Cantt or Chandigarh is the nearest railway station.
By Road
One can reach Manali by Bus service from Delhi which is at a distance of 570 km. There are also bus services from Shimla, Dharamshala, Leh and Chandigarh. And, you can also hire a taxi to travel to Manali if you wish privacy.
Best time to visit
Normally October to June is the best time to visit Manali. With bright, when colourful flowers in full bloom and a pleasant climate with temperatures ranging between 10 degree Celsius and 25 degree Celsius but if you want to see snowfall then December to February is the best time. With temperatures that hover around subzero, Manali becomes a paradise on earth with its snow-clad surroundings While tourists visit Manali throughout the year, monsoon season (July to August) is a bit low, due to landslides and land-blockages.