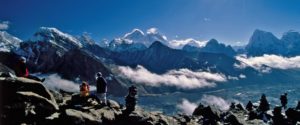 Nepal is a South Asian country in the Himalayas with China bordering to the north and India to the south, east and west. About 81% of the population is from Hinduism. Located across the border of Nepal and China, there are 8 of the world's top 10 mountains. This is where the Mount Everest raising its head. 
Nepal's culture is a mixture of Hindu and Buddhist culture. Wildlife diversity is a significant feature of Nepal. For variations from very cold to warm climates, Nepal has a great variety of flora and fauna. Here are some wildlife that can only be seen in Nepal, such as the Spanish babbler. Rhododendrons of different species are seen in Nepal.
To the Travel thirst people, traveling means a great pleasure. If you are thinking of going to a nearby country, Nepal might be the ideal travel destination for you. Himalayan daughter Nepal has no end to explore. Mount Everest, a hundred-year-old temple, sky-scraping mountains, waterfalls, diverse cultures, various festivals are not here. Nepal is a great attraction for all the tourists of the world. 
Kathmandu: Kathmandu is the gateway to Nepal and the capital city. The city is rich in ancient traditions and technologically. From Kathmandu you will have to start the wonderful experience of traveling to Nepal. You must visit the ancient Buddhist complex Sambhunath, located on the hill here. Besides, there are some other interesting places that will fascinate you. Kathmandu Darbar Square, Akash Bhairab, Ashan Hall, Seto Makhindnath Temple, Shiva Temple are especially notable. There is no way to be captivated by the hundreds of magnificent monuments, sculptures, artistic temples and monuments of the Virgin Mary in Kathmandu.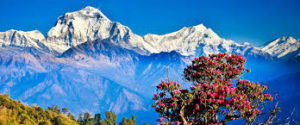 Pokhra: Pokhara, a city of natural beauty, is called the "Queen of Nepal". Travel in Nepal will be incomplete if you do not go to Pokhra. Pokhara is a very popular place near Kathmandu. Its distance from Kathmandu is 200 km. The beautiful climate and the gentle atmosphere of Pokhara is full of natural beauty, will bring you solace. Dhaulagiri, Manaslu, and Annapurna are the boundaries around Pokhra. One of the fascinating places here is Feua Lake, Nepal's second largest natural lake. The pleasure of boating by boat on Fuea Lake is unparalleled. The other hill on the lake is surrounded by mountains. And the water flows through the mountain. Besides, some of the more spectacular places here are Davis Falls, Mahindra Caves, Sharonkot, International Mountain Museum, Ghurkha Memorial Museum, Tibetan Buddhism Monastery, etc. The beauty of them will fascinate you.
Lumbini: The holy Lumbini pilgrimage site, the birthplace of Siddhartha Gautam or Buddhist, is a very popular place for travelers. Lumbini is a small town in the southwest of Nepal. This place of myth is always in the footsteps of knowledgeable, scientific and curious visitors. There will be multiple monasteries, holy ponds, meditation centers and cultural events at the complex. Apart from this, you can see more ancient statues of Mayadevi, Buddhist temples, Thai monasteries as well as lush green-shaded forests.
Mount Everest: Mount Everest is the world's highest peak, reaches an astonishing height of 8,848 meters. One of the most beautiful trekking trails on the planet, en route to Everest Base Camp, lying in the Khumbu region of Nepal. It is known "The Chongamalungama" to Sherpa and it's called "Goddess of the sky" by the Nepalese. It attracts thousands and thousands of tourists every year for trekking and hiking. Mount Everest is deepest natural wonder of the planet and trekking to Everest Base Camp represents a feeling of accomplishment that is not provided by anything else. Mount Everest is certainly one of the best natural wonders on the planet.
Annapurna Mountain: Annapurna is a heavenly name for professional climbers. The highest peak of it, is 8,000 meters high. These peaks are always frosted, which will draw your attraction. For professional climbers this is the most popular trekking spot in Nepal. Springtime is the perfect time for tracking here. You have to go to Annapurna for a wonderful adventure. 
Lang tang Valley: Langtang, a region of the Himalayas in Nepal, lies north of the Kathmandu Valley and borders Tibet. The Langtang National Park is also in this area. Most Tamang residents are occupied by the settlements. The Langtang Trek has beautiful Gosainkund Lake and the sacred Canjin Gompa. Known as the Glacier Valley, the Langtang Valley is full of natural beauty and has made it one of the favourite trekking destinations.
Bhaktapur: The location of this city is 5 km from Kathmandu. Bhaktapur was the abode of ancient kings. Apart from this, the city is known as a museum of medieval art, literature, wood carving, metal sculptures and furniture. Here you can see the wonderful combination of Buddhist temples and Hindu temples. Besides, there are some more interesting architecture here. Notable of these are: Potters Square, Lion's Gate of Potters Square. 
Upper Mustang: Mustang is the eastern state of Lo. Distant and isolated, Mustang is one of the districts that is completely separate from other trekking destinations in the country. The Upper Mustang area was a limited ruined area until the 1992, making it one of the most protected regions in the world.
There are many other destinations in Nepal that are floating with natural, cultural and traditional variations. There is no shortage of temples and deities in this country for trekking, sightseeing or even adventure activity. Gumfas, temple monasteries and small places also add a spiritual connection to these places. Differences in natural topography, differences in rituals and practices and a kaleidoscope of plants and plants, as well as unique flora and fauna, once traveling to Nepal is not enough!