North India Tour Package:-
Dada Boudir tour and Travels, offering some of the most famous North India Tour Package from Kolkata. Most of the tour packages also can be availed from Haridwar and Delhi. Through the channel partners and outstanding expertise in North India tourism, Dada Bodir Tour and Travels make sure to give you the best tourism experience during the North India tours with us.
Haridwar Rishikesh with Agra Mathura Vrindavan: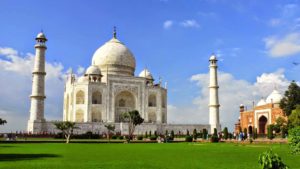 Haridwar Rishikesh with Agra Mathura Vrindavan tour package is very popular in tourists because it includes five popular cities such as Haridwar, Rishikesh and Agra, Mathura and Vrindavan. All three places are located in very close proximity. Enjoy Agra by visiting the Taj Mahal, Fatepur Sikri, and majestic Agra Fort. Mathura is a birthplace of Shri Lord Krishna, often called as Krishna Janm Bhoomi. Sightseeing tour of Delhi. Visit Red fort, Qutab Minar, Lotus temple, India and spent your evening in market shopping near the Chandi Chowk market.
Delhi & Uttar Pradesh:
Delhi, India's capital territory, is a massive metropolitan area in the country's north. This stature that the city has attained it attributed to quite a few things ranging from age-old monuments to some of the best shopping arcades. To make the most of your time in this bustling, vibrant city, be sure to review our list of the top tourist attractions in Delhi. Mathura is a sacred city in Uttar Pradesh, Northern India. It is an important pilgrim place of the Hindus and one of the seven sacred cities in India. Owing to its ancient culture and tradition Mathura contains a plethora of tourist attractions, Krishna Janma Bhoomi Mandir. Jama Masjid.Dwarkadhish Temple.Kusum Sarovar.Radha Kund.Kans Qila.Mathura Museum.Govardhan Hill. The distance between Vrindavan to Mathura is 12 km by Road along with an aerial distance of 10 km. No direct flights or trains or buses are available between Vrindavan to Mathura. The convenient, fastest and cheapest way to reach from Vrindavan to Mathura is to take a taxi from Vrindavan to Mathura. Vrindavan is one of the most sacred places in Vaishnavism.according to Hinduism, Lord Shree Krishna spent most of his childhood days. Here are the top tourist attractions to see in Vrindavan: Banke Bihari Mandir, Prem Mandir, Radha Raman Temple, ISKCON Vrindavan, Sri Ranganatha Temple, Katyayani. Shahji Temple, Gokulnanda, Govind Devji Temple.
Uttarakhand:
Rishikesh is a city in India's northern state of Uttarakhand, Rishikesh has numerous ashrams, some of which are internationally recognized as centers of philosophical studies, yoga, and meditation. .Here are the top tourist attractions to see in Rishikesh: Bharat Mandir, Gita Bhavan, Laxman Jhula, Neelkanth Mahadev Mela, Parmarth Niketan Ashram, Swarg Ashram, Trayambakeshwar Temple,8 Triveni Ghat. Haridwar is an ancient city and important Hindu pilgrimage site in North India's Uttarakhand state, where the River Ganges exits the Himalayan foothills. With Ujjain, Nasik, and Allahabad, Haridwar forms the four important pilgrimage centers of India where Kumbh Mela is celebrated here after every 3 years rotated over these 4 destinations. Har Ki Pauri is a famous ghat on the banks of the Ganges in Haridwar. North India is the place where you can stay in royal palaces and experience the lifestyles of the raja-maharajas of the bygone era.
Some of the most popular North India Tour Packages: North India Tour Package, Nainital Uttarakhand Tour Package
More tour packages to consider: Nainital Tours, Spa Ayurveda Taj Mahal Tour (From Delhi), Romantic Uttarakhand Tour Package, Jim Corbett with Nainital tour package